How To Delete Unsubscribes From Your List
Tuesday, August 13th, 2013 at 11:53 pm
How To Delete Unsubscribes From Your List
Hi Guys!
If you have a list then you must check it regularly for people who have unsubscribed… and delete them.
Why? Because even though they have unsubscribed you are still paying for them as they are still counted in the total size of your list. I'm with Aweber… They charge $19 per month for up to 500 subscribers… Then an extra $10 for 501 to 2500… Or an extra $30 for 2501 to 5000… And so it goes on…
Just imagine you had 525 subscribers on your list, but 30 of them had unsubscribed… You'd be paying $29 a month instead of $19 (And this gets even worse when you slap the tax on!).
Nobody likes unsubscribes… but it's something you have to accept and deal with. And if you've got a single opt-in then you're probably going to get a lot more than if you have a double opt-in.
Right… Like I said above, I use Aweber. If you use a different autoresponder then your process will be very similar.
From the screenshot below you can see that I've got eleven people who have unsubscribed from one of my lists…

Lets get rid of them! In the screenshot below you can see that I've selected "subscribers" and from the drop-down menu I've selected "Manage Subscribers". Click it!

In the screenshot below you can see that we are going to use the "select field" menu

Right… If you click on "select field" you'll get lots of options… The one you want to click is "stop status" as shown on the left in the screenshot below. Please note that I've also selected "Unsubscribed" in the box on the right. This is essential… You don't want to go deleting names that aren't unsubscribed!

Nearly there! In the screenshot below you can see a list of the email addresses that have unsubscribed. Once again, make certain that the box on the right says "unsubscribed" . Double check by making sure that the word "unsubscribed" appears to the right of each email address. Below the grayed-out "Delete" button to the left of the word "name" there is a check box… Click it!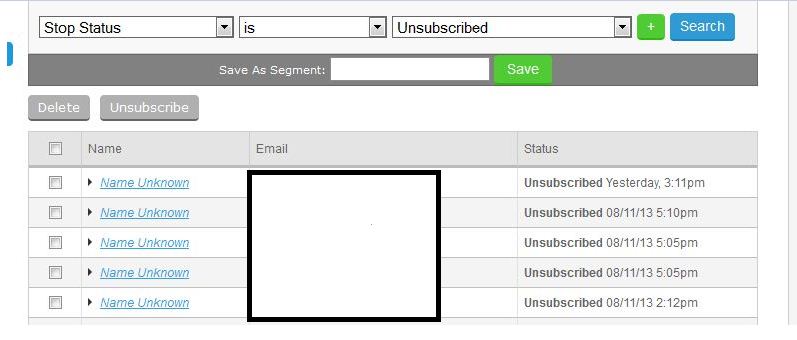 Okay… so now that you've checked that box you'll see something like the screenshot below. You'll notice that the "delete" and "unsubscribe" buttons have now turned red. Red is a warning… there's no going back! Make sure that the box on the left says "stop status" and the box on the right says "unsubscribed". Also that the word "unsubscribed" appears next to the email addresses in the list.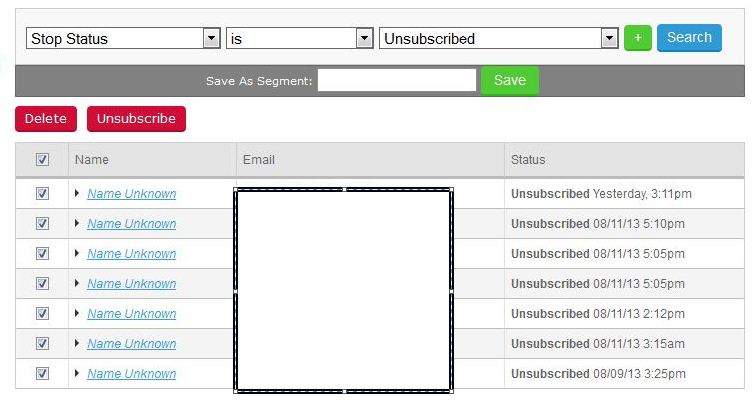 Remember… There's no going back…
Click the big red "delete" button. And they're all gone! Don't panic if you check your control panel and it still says there's unsubscribes on your list… It takes a while for the system to reset the figures!
If you found this post helpful then please click the "like" button… It's floating around somewhere like a demented balloon!
Have fun!
Rob
.
Filed under: General Chat • internet marketing • List Building
Like this post? Subscribe to my RSS feed and get loads more!