How To Delete Undeliverable Email Addresses From Your List
Monday, August 19th, 2013 at 12:02 am
How To Delete Undeliverable Email Addresses From Your List
In my last post I told you of the importance of deleting unsubscribes from your list and explained how to do it. In this post I'm going to tell you how to delete undeliverable email addresses. These are often referred to as "bounces" by your autoresponder.
In some respects this is even more important than deleting unsubscribes… Why?
Because they are far more easily overlooked… and just like unsubscribes they are costing you money.  So what are these "bounces" or email addresses which can't be delivered to?
The vast majority are actually fictitious addresses that people have entered to get your free gift but don't want to get on your list. You'll find that you get far more of these if you use single opt-in because people don't have to confirm their email addresses.
The process of getting rid of them is very similar to that of getting rid of unsubscribes… but because it's important I'm gonna walk you through it…
Below is a screenshot of one of my lists in my Aweber account… You can see a recent broadcast that I sent had a bounce rate of 0.3%. Now 0.3% is low… That's because I deleted a load of them the other day!

.
Okay… Let's get shot of them!
In the screenshot below you can see that I've selected the "Subscribers" tab, and in the drop down menu I'm going to click "Manage Subscribers".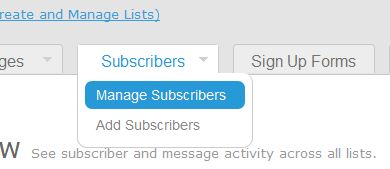 .
In the screenshot below I'm going to click "Select Field"…

.
I the screenshot below you can see that when I click "select field" I get a drop down menu and I've selected "Undeliverable". Please also note that the centre box says "is" and the right-hand box says "true". Now click the blue "Search" button.

.
.
.
From the screenshot below you can see that I've got 14  undeliverable email addresses on this list. Check the little box below the grayed-out "Delete" button, to the left of the word "Name".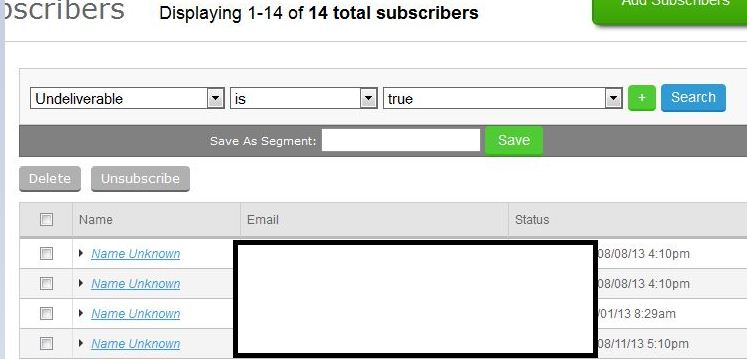 .
In the screenshot below you can see that once the little box is checked the  "Delete" and "Unsubscribe" buttons have turned red… In other words, they are now active.
REMEMBER… THERE'S NO GOING BACK! Double check you've done everything correctly… Then click the "Delete" button.

That's it… they've gone forever! If you check you're control panel and it shows they're still there don't worry…  It takes a while for the figures to be reset.
If you found this post useful, please click "Like". It's floating around somewhere!
Tagged with: autoresponder • double opt-in • how to build a list • list building • list building formula • single opt-in
Filed under: General Chat • internet marketing • List Building
Like this post? Subscribe to my RSS feed and get loads more!