Forgotten WordPress Username? Want To Change WordPress Username? Don't Panic!
Saturday, November 30th, 2013 at 4:23 pm
Forgotten WordPress Username? Want To Change WordPress Username? Don't Panic!
Hi Guys!
I had a problem a short while back where I was trying to install WordPress onto one of my domains. It was a domain that I'd bought four or five years ago and had only ever used it for a squeeze page… Or so I thought!
It turned out that I'd accidentally installed WordPress on it instead of one of my other domains! Yep… I'm a moron!
Of course, I had no idea what the username or password were… Here's how to get around it if you can access your cpanel… You can also use this method to change your WordPress username and/or password.
Step1
Log into your cpanel and look for "phpMyAdmin" as in the screenshot below…

Step 2
Click on the "phpMyAdmin" and you'll see something like the image below. Now if you've got several domains like me, you'll have to look through them until you find the right one. If you've only got one domain then you're laughing!
What you're looking for is one of the _wrdpX (where X is a number)
Now I've already looked through these and I know that the one I want is  _wrdp1. ( I'm showing you this one because it's an old domain that I no longer own but haven't deleted.  Hey! I might be dull, but I'm not totally stupid!).
Step 3
Okay… In this case I know I want _wrdp1 so I'm gonna click on it (or search through them if I didn't know) and I'll get taken to the screenshot below…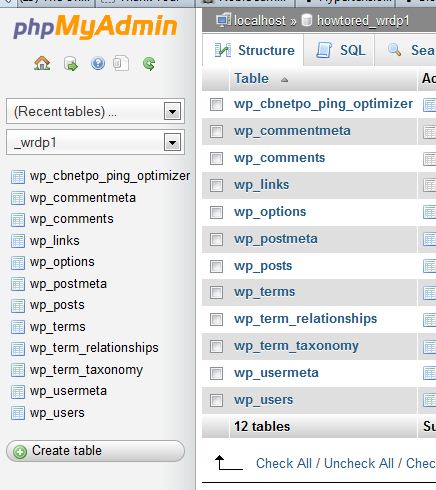 You can see at the bottom of the second column "wp_users"  and this is exactly what we're looking for! Click on it and you see the screenshot below…
Step4

And there it is! You can see from the image above that the "user_login" is "videocreation" and next to it is the encrypted password!
If I click on the current username I can change it to whatever I want!
.
.
Tagged with: wordpress username
Filed under: General Chat • List Building
Like this post? Subscribe to my RSS feed and get loads more!