Email Marketing… Don't follow The Sheep!
Tuesday, October 1st, 2013 at 8:59 pm
Email Marketing… Don't follow The Sheep!
Hi Guys!
Well it's been a glorious morning here in south Wales… Clear blue sky with just a few fluffy white clouds…
Shite… This is starting to sound like a yogurt commercial!
And talking of shite, I've just got back  from taking Buster, our bichon frise, for a walk up the mountain…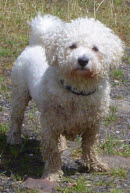 Now, here in Wales one thing we've no shortage of is sheep! There's millions of the wooly critters.  Of course, sheep are pretty harmless (unlike some internet marketers) unless they decide to butt you… That hurts!
But they do have a a very nasty by-product… Which is tons of crap. Which, thinking about it, is very much like a lot of unscrupulous internet marketers!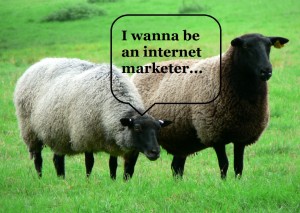 Now, Buster is reasonably well behaved but a bit head-strong… and he's been taught not to chase sheep. But there's one thing (two, actually) that he's got rather a disgusting penchant for…
One is eating sheep's shit, and the other is rolling in it. They reckon dog's roll in the poo to disguise their scent…
And when I looked back to see where Buster was, I could seem him about fifteen yards behind me, legs in the air, rolling on his back as he very expertly disguised his scent.
His back was plastered in the stuff… and the smell was absolutely horrendous… mortifying!  I wish I'd taken a photo of him… you'd have liked that!
Question… Why is there never a stream nearby when you need one?
Luckily I had a signal on my mobile (cell phone) so I phoned my wife "she who must be obeyed" and told her to get the bath ready… "I'll
be home in half an hour…"
…But I didn't tell her what had happened… I thought I'd surprise her…
I walked back down the mountainside… praying that I didn't meet anyone…
And yep, when I got home she was surprised alright…  Speechless!
Problem was I ended up bathing Buster myself!
Email marketing… Don't follow the sheep!
Now, I'm on lots of marketers lists. This is a huge tip for you… You can learn a tremendous amount by reading what other marketers are up to… And how they do It.
There are very few email marketers that I really admire (maybe 4 or 5 at the most). What you learn from these guys is priceless… Such as how they construct their subjects, the email content itself, the layout, how they write the email, how they promote things etc etc.
Take one of these emails apart bit by bit… You'll learn more by doing this than reading many $100+ courses!
Then there are marketers from whom you learn how NOT to do it…
These are the members who are in the "Have You Seen This" brigade. They are would-be marketers who haven't a clue how to write a subject, let alone a readable email…
And 95% of the time (some of them 100% of the time) most don't even bother to write their own emails… They simply copy and paste
a pre-written email (or "swipe") which has been prepared by whoever it is they are promoting…
(This is why you get exactly the same broadcast from umpteen marketers).
Of course, it's impossible for these pre-written emails to contain any "personality"… which is why they read is if they were written by a turd!
Another thing I've noticed happening recently… (To be honest, this is why I started writing this blog post… But I got I bit side-tracked… Sorry!)
I'm getting a lot of emails and the "From" field in the email simply contains a christian name…
From: Dave… or Bill… or Jonathan… or Lucy… etc.
I really don't know what the idea behind this is, unless they are trying to be familiar… Friendly… Whatever…
Dunnow… But it doesn't work!
Here in Wales half the population is called David, or Dave, or Dai…
So when I receive an email from Dave, all I think is…
Who the f*** is Dave?
Please remember that when you send a broadcast to your list make sure that your autoresponder is programmed with your full name (or your company/website). This is an excellent way to brand yourself…
And it ensures that your subscribers know EXACTLY who the email is from.
Bottom Line
Don't fall into the trap of becoming another sheep… Yes, it may seem like an easy way out, but it will do your reputation incredible damage…
Put yourself above the half-wits and think for yourself!
Thanks for reading! Please feel free to post a comment… Either good or bad!
And there's a "like button" floating about somewhere like a helium balloon with a slow puncture…
Speak soon,
Robert "Robert Watkins" Watkins
.
Filed under: General Chat • internet marketing • List Building
Like this post? Subscribe to my RSS feed and get loads more!