Monday, April 14th, 2014 at 8:58 pm
Have You Got Aweber? Then Dump Internet Explorer!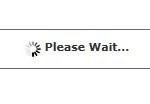 The "wheel" was spinning round and round… The message said "please wait"…
So I waited… and waited…
And waited…
I've had Aweber for just over four years, so I'm not exactly a stranger to it… But I've never had this problem before. All I was trying to do was paste an email into the html broadcast editor.
…And waited.